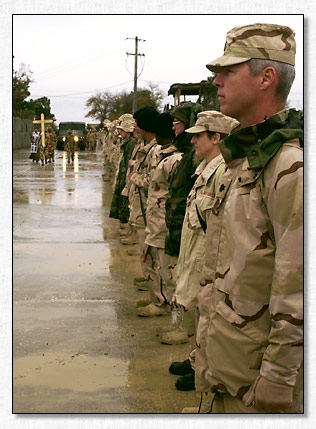 U.S. Air Force photo by Tech. Sgt. Brian Davidson.
Bagram Air Base, Afghanistan. Airmen paid final honors November 15 to a Romanian soldier who died in an attack on a coalition convoy November 11 in southern Afghanistan. Coalition airmen and soldiers lined a road here as the body of Sgt. Major Mihail Anton Samuila was brought to a Romanian C-130 aircraft.

Photograph courtesy of Air Force Link.
---
U.S. Military Gallery 3 Gallery 2 Gallery 1 Subject Gallery
Credits:
Airmen paid final honors to a Sgt. Maj. Mihail Anton Samuila who died in an attack on a coalition convoy - U.S. Air Force photo by Tech. Sgt. Brian Davidson. Photo courtesy of Air Force Link Photo Gallery - Image 031117-F-0000W-001.

Air Force Link
http://www.af.mil/

Background pattern courtesy of ©