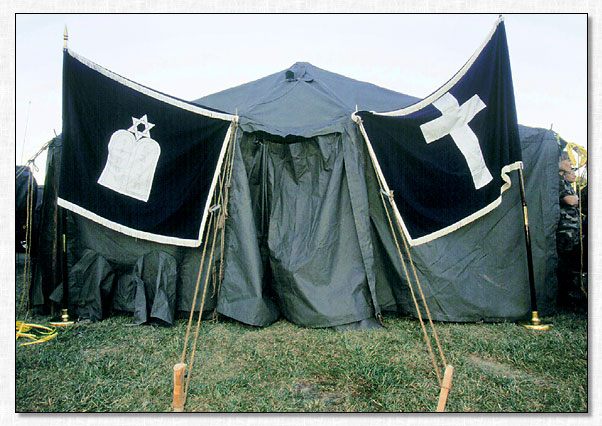 U.S. Navy photo by Photographer's Mate 1st Class Michael W. Pendergrass.
On the day after a deadly terrorist attack on the Pentagon, a chapel was erected on the grounds of the Pentagon a few hundred meters from the impact area. American Airlines FLT 77 was bound for Los Angeles from Washington Dulles with 58 passengers and 6 crew. All aboard the aircraft were killed, along with 125 people in the Pentagon.

Photograph courtesy of the Navy NewsStand - Eye on the Fleet.
---
U.S. Military Gallery 3 Gallery 2 Gallery 1 Subject Gallery
Credits:
Chapel near impact area - U.S. Navy photo by Photographer's Mate 1st Class Michael W. Pendergrass. Photo courtesy of the Navy Newsstand, Eye on the Fleet Photo Gallery. Image 010912-N-3235P-024 Arlington, Va. (September 12, 2001).

Navy NewsStand - Eye on the Fleet
http://www.news.navy.mil/

Background pattern courtesy of ©