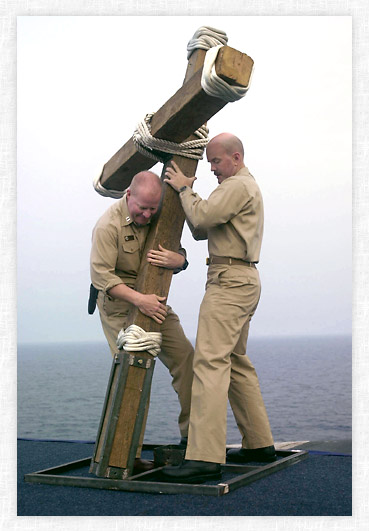 U.S. Navy photo by Photographer's Mate 2nd Class Tiffini M. Jones.
Arabian Gulf (April 20, 2003) - Chaplain Dan Reardon and Chaplain Kyle Fauntleroy work together to put up a cross for the Easter Sunrise Service on the flight deck of USS Nimitz (CVN 68). Nimitz and her embarked Carrier Air Wing Eleven (CVW-11) are on deployment conducting combat missions in support of Operation Iraqi Freedom. Operation Iraqi Freedom is the multi-national coalition effort to liberate the Iraqi people, eliminate Iraq's weapons of mass destruction, and end the regime of Saddam Hussein.

Photograph courtesy of the Navy NewsStand - Eye on the Fleet.
---
U.S. Military Gallery 3 Gallery 2 Gallery 1 Subject Gallery
Credits:
Cross for Easter Sunrise Service, U.S. Navy photo by Photographer's Mate 2nd Class Tiffini M. Jones. Photo courtesy of the Navy NewsStand - Eye on the Fleet - PhotoID: 030420-N-8273J-001.

Navy NewsStand - Eye on the Fleet
http://www.news.navy.mil/

Background pattern courtesy of ©