On January 27, 1935, in Craigsville, West Virginia, approximately 100 miles southeast of Charleston, a child of West German ancestry was born. His father died early on and his mother died with cancer when he was ten years old, leaving him an orphan. Despite his very difficult circumstances, he graduated from high school at the age of fourteen and served six years in the U. S. Marines with duty in the Pacific, Iwo Jima, and Nagasaki, Japan. He graduated from the University of Charleston with a degree in Business. The name of this remarkable man was Bernard Coffindaffer, the founder of the nonprofit Crosses of Mercy - Cast Thy Bread, Inc., now called Crosses Across America, Inc.
Coffindaffer worked in the oil industry and later founded his own business, a-coal-washing business in the mountains of West Virginia, a somewhat deprived location. However, he creatively was able to carve a small fortune from this venture.
Coffindaffer became a Christian at the age of forty-two. He eventually became a self-proclaimed Methodist minister and served seven small churches in Pochahontas County, West Virginia. He was distinguished with an honorary doctorate degree in Florida.
After two heart by-pass operations, he liquidated his business and two years later had a vision. "A genuine, marvelous, glorious vision," he said, "The Holy Spirit instructed, blessed, dealt with me and told me how to go about installing these Crosses. It was an experience you have once in a lifetime." He was told what to do: Get manpower, materials, and plant crosses. "I worked like a dog for the money, eighteen hours a day for thirty-five years," he said. "The Holy Spirit knew I had the money and was willing to spend it, and I'm not going to back down." For the nine final years of his life, he obediently spent approximately $3,000,000 planting the clusters of three Crosses in 29 states, District of Columbia, Zambia and The Philippines. Site owners donated the land's use for the Crosses and Coffindaffer paid all the bills. A total of 1864 clusters of crosses were erected.
Coffindaffer started the project on September 28, 1984, stating, "Not for saints or sinners. For everybody. They're up for only one sole reason, and that's this: to remind people that Jesus was crucified on a Cross at Calvary for our sins and that He Is soon coming again. That's what jars, but that's the truth. When you say, For our sinsą, half the people run. When you say, "He's coming again", everybody runs." "And, maybe," he said, "the Crosses will make one person stop and think."
At the height of his work, Coffindaffer had an office in the basement of his home with a full-time secretary, Sharon Clendenin. He also, had seven full-time work crews across America, erecting these silent witnesses for Jesus Christ, our Lord and Savior. The Crosses were all built from California Douglas Fir. The center Cross was painted gold and the two flanking Crosses were painted a pale blue. The gold paint on the center Cross represented royalty while the two Crosses' pale blue paint signified the earth. At the erection of each cluster of Crosses, a solemn Consecration Service was held. Scriptures such as Mark 8:34, "if any man will follow me, let him deny himself and take up his cross and follow me" were read. Prayers for repentance and forgiveness of sins were offered. At each site, the same identical service was held. Coffindaffer once said, "The Crosses speak peace within as we struggle without."
The three Crosses symbolize Christ on the Cross flanked by the two thieves that were crucified with Him. Coffindaffer, the colorful businessman turned evangelist, was the subject of a PBS documentary on his life entitled, "Point Man For God," and was shown on the award-winning series "Different Drummer." CBS News did a segment on him for "CBS Sunday Morning.'
The Nicholas County, West Virginia, gentleman who gained national attention for making clusters of Crosses a common sight throughout the United States and two foreign countries, sadly died on Friday, October 6, 1993, of a heart attack at his home in Craigsville. Services were held Monday, October 11, 1993, at St. Luke's United Methodist Church in Craigsville. Interment followed at West Virginia Memorial Gardens in Calvin, West Virginia, three miles south of Craigsville. He was survived by his widow, June of Craigsville; two daughters, Michele Coffindaffer, Craigsville, and Sheila Trapp, Orlando, Florida; sister, Ruth Dorsey of Orlando, Florida; brother, Cecil Coffindaffer, Cottie, West Virginia (who is also now deceased): and four grandchildren.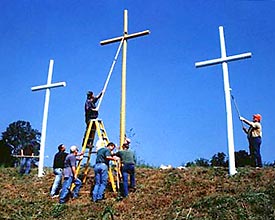 Men from Wyndale Baptist Church, Terry,
MS repairing cross sites in Mississippi.
Sara Stevenson Abraham answered the Lord's call to continue the Ministry in 1999. She formed a new non-profit (501-C-3) organization entitled Crosses Across America, Inc. The National Headquarters of Crosses Across America, is located at Suite C, 3300 Indiana Avenue, Vicksburg, MS 39180. As Executive Director she is locating the standing clusters of Crosses and getting them straightened, repaired and restored. Abraham presents the story of the Crosses for churches, civic organizations, television, and radio programs.
In addition to the restoration, Mrs. Abraham does publicity, fund-raising, and manages the International Headquarters with the help of a staff of volunteers ­ engineers, scientists, businessmen, and people with computer, clerical and secretarial skills.