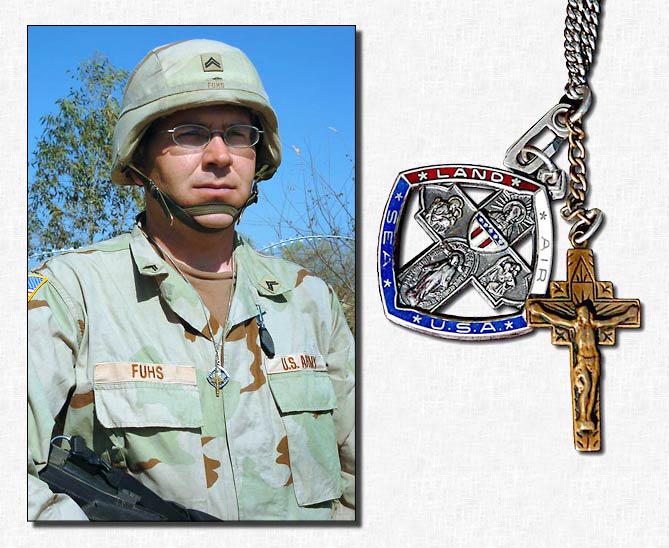 U.S. Army photo by Spc. Sherree Casper / Artist's depiction by Sgt. 1st Class Chuck Joseph.
Left photo - Cpl. Scott W. Fuhs, 415th Civil Affairs Battalion, 1st Infantry Division, wears a family crucifix that has seen four generations of Army service and four wars. Right image - An artist's depiction of the 85-year-old family crucifix; the medallion behind the crucifix was added to the heirloom just prior to Fuhs deploying to Iraq.
Images courtesy of U.S. Army.
---
U.S. Military Gallery 3 Gallery 2 Gallery 1 Subject Gallery
Credits:
Fuhs Family Crucifix, Photo of Cpl. Scott Fuhs by Spec. Sherree Casper; Artist's depiction of the Family Crucifix by Sgt. 1st Class Chuck Joseph (April 16, 2004). Images courtesy of U.S. Army.

United States Army
http://www.army.mil/

Background pattern courtesy of ©