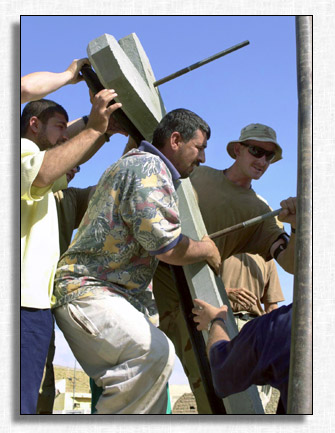 U.S. Navy photo by Photographer's Mate 2nd Class Jacob Johnson.
Al Kut, Iraq (May 7, 2003) - A Builder 3rd Class Clifford Ainsworth assigned to Naval Mobile Construction Battalion One Thirty Three (NMCB-133) helps Iraqi men lift a concrete cross constructed by Petty Officer Clifford, onto its pedestal in the Al Kut Cemetery, Iraq. NMCB-133 is restoring the British cemetery to show respect for the families of our comrades who were buried there during WW I. U.S. Navy Naval Mobile Construction Battalions (NMCB'S) provide responsive military construction support to Navy, Marine Corps and other forces in military operations, construct base facilities and conduct defensive operations. NMCB-133 is in Iraq to provide construction support to coalition forces and provide humanitarian aid to the Iraqi people.

Photograph courtesy of the Navy NewsStand - Eye on the Fleet.
---
U.S. Military Gallery 3 Gallery 2 Gallery 1 Subject Gallery
Credits:
Iraqi men lift a concrete Cross, U.S. Navy photo by Photographer's Mate 2nd Class Jacob Johnson. Photo courtesy of the Navy NewsStand - Eye on the Fleet - PhotoID: 030507-N-2517J-003.

Navy NewsStand - Eye on the Fleet
http://www.news.navy.mil/

Background pattern courtesy of ©