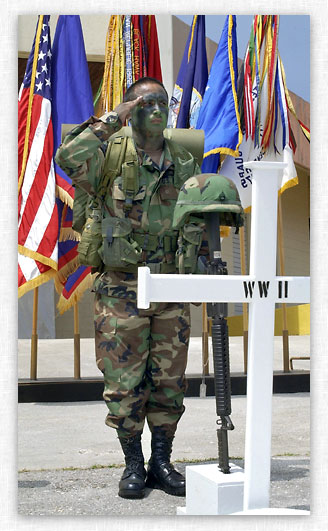 U.S. Navy photo by Photographer's Mate 2nd Class Nathanael T. Miller.
Piti, Guam (May 26, 2003) - Sgt. 1st Class Jospeh Cruz assigned to the Army National Guard of Guam salutes after placing his rifle, helmet, and dog tags on a memorial to fallen servicemen and women from World War II during Memorial Day ceremonies at the Piti Veteran's Cemetery.

Photograph courtesy of the Navy NewsStand - Eye on the Fleet.
---
U.S. Military Gallery 3 Gallery 2 Gallery 1 Subject Gallery
Credits:
Memorial Day ceremonies, U.S. Navy photo by Photographer's Mate 2nd Class Nathanael T. Miller. Photo courtesy of the Navy NewsStand - Eye on the Fleet - PhotoID: 030526-N-7293M-052.

Navy NewsStand - Eye on the Fleet
http://www.news.navy.mil/

Background pattern courtesy of ©