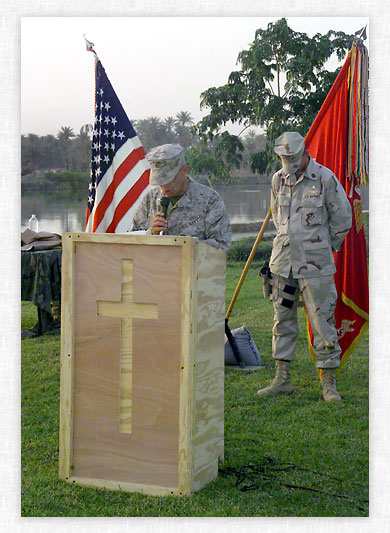 U.S. Marine Corps photo by Lance Cpl. Jason L. Andrade.
Babylon, Iraq (June 9, 2003) - Chaplain Devine, chaplain for the 1st Marine Division, along with attending U.S. Marines, bow their heads in prayer during a memorial service held for Sgt. Jonathan W. Lambert, killed in the line of duty on June 1. The Marines are deployed in support of Operation Iraqi Freedom, the multi-national coalition effort to liberate the Iraqi people, eliminate Iraqi's weapons of mass destruction, and the regime of Saddam Hussein.

Photograph courtesy of the Navy NewsStand - Eye on the Fleet.
---
U.S. Military Gallery 3 Gallery 2 Gallery 1 Subject Gallery
Credits:
Memorial Service for Sgt. Jonathan W. Lambert, U.S. Marine Corps photo by Lance Cpl. Jason L. Andrade. Photo courtesy of the Navy NewsStand - Eye on the Fleet - PhotoID: 030609-M-5972A-003.

Navy NewsStand - Eye on the Fleet
http://www.news.navy.mil/

U. S. Marine Corps
http://www.usmc.mil/

Background pattern courtesy of ©