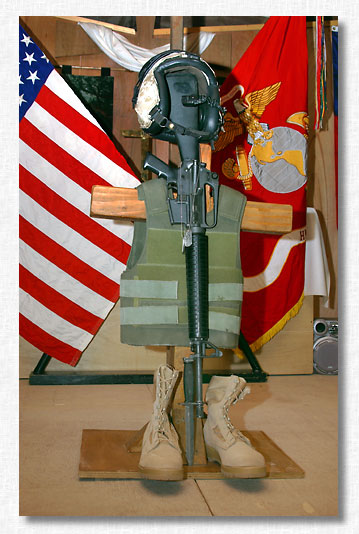 U.S. Marine Corps photo by Sgt. Nathan K. LaForte.
A memorial of boots, identification tags, an M-16A2 service rifle with bayonet, and flight gear, was placed front and center of the chapel at Al Taqaddum, Irag, August 2. The memorial was for the service held in honor of Lt. Col. David "Rhino" Greene, who was killed in action in Iraq July 28. Greene, who hailed from Illion, N.Y., was the aviation maintenance officer for Marine Light Attack Helicopter Squadron 775, Marine Aircraft Group 16, 3rd Marine Aircraft Wing.

Photograph courtesy of the U.S. Marine Corps.
---
U.S. Military Gallery 3 Gallery 2 Gallery 1 Subject Gallery
Credits:
Memorial to Lt. Col. David "Rhino" Greene, U.S. Marine Corps photo by Sgt. Nathan K. LaForte. Photo courtesy of the U.S. Marine Corps - PhotoID: 20048673319.

United States Marine Corps
http://www.usmc.mil/

Background pattern courtesy of ©