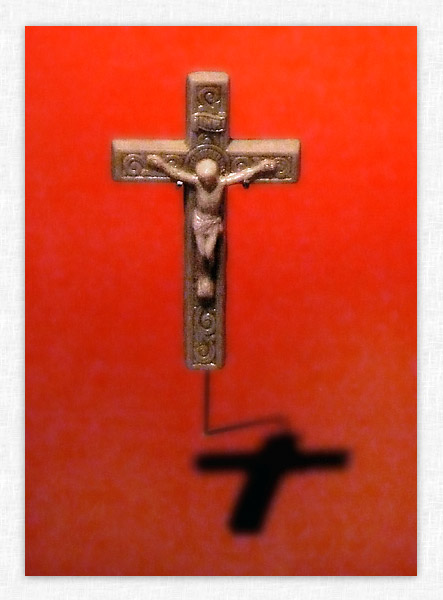 Roland Barrios, of New Orleans, was 17 when he enlisted in the U.S. Marine Corps. Two years later, he landed on Iwo Jima with the 5th Marine Division.
". . . I landed on the second day. And all they had on the beaches was dead marines. You couldn't see a dead Jap. Mortar shells, machine gun fire, rifle fire. It was terrible. They had us all zeroed in. . . . It was like shooting ducks in a barrel."
A Roman Catholic, Barrios wore this cross on his dog tag chain. He attended mass near the front lines during the fighting.
"Believing in God and my religion helped me tremendously. . . . We would pray for [buddies] to get over their wounds or pray for their souls. At night in the foxholes we each had to stand a watch and I would sit and recite my rosary or say different prayers for God to help us. Actually, I think [the war] deepened my faith. You got a lot of fear in you but also if you believe in God, that's what keeps you going. Without that belief in God I don't think you could make it." 1
Manipulated photo by © Eric Shindelbower
---
US Military Cross Gallery 3 Cross Gallery 2 Cross Gallery 1 Home
1 - Roland Barrios information courtesy of The National WWII Museum in New Orleans, Louisiana.
The National WWII Museum
945 Magazine Street - New Orleans, LA 70130.
http://www.ddaymuseum.org/
Background pattern courtesy of © Iconbazaar.com