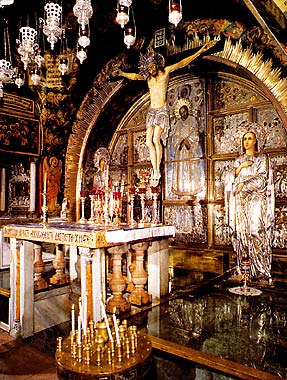 The Altar of the Crucifixion
The Basilica of the Holy Sepulchre - Jerusalem
Photograph courtesy of Christus Rex, Inc.
Tradition places the erection of the cross and the death of Jesus in the eastern part of the nave on the left. A silver disk with a central hole, underneath the Greek Orthodox altar, marks the spot where the Cross stood.
---
Crucifixion Altar Main Page Subject Gallery
Credits:
The Altar of the Crucifixion, The Basilica of the Holy Sepulchre - Jerusalem, photo courtesy of Christus Rex, Inc. Used by permission of Michael Olteanu. Photo prepared by Michael Olteanu.
Descriptive text by John Abela, ofm and Michael Olteanu based on research by Albert Storm (SBF-Jerusalem). Christus Rex, Inc. - http://www.christusrex.org/

Background pattern courtesy of the ©