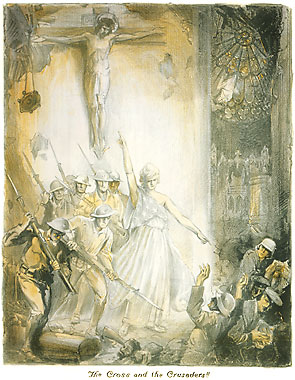 The Cross and the Crusaders!! Lithograph print (1917) by Alex Oscar Levy.
Courtesy of The Library of Congress, Prints and Photographs Division.
Allegory showing the figure of Liberty pointing to a crucifix hanging on a wall in church and towards German soldiers looting the church as Allied soldiers advance on the Germans.
---
U.S. Government Poster Gallery Subject Gallery
Credits:
The Cross and the Crusaders!! Lithograph print by Alex O. Levy. Courtesy of The Library of Congress, Prints and Photographs Division. Reproduction Number LC-USZC4-7573. Created/Published, 1917.
The Library of Congress - http://www.loc.gov/

Background pattern courtesy of the ©