Photograph by W. L. Mann
Romagne Cemetery, France. Where more than 23,000 American dead sleep the last sleep. Their sacrifice at St. Mihiel, Mont. Faucon, in the Argonne, and around Verdun brought victory to our arms in The World War. (August 12, 1919)
Photo courtesy of the Library of Congress, Prints and Photographs Division.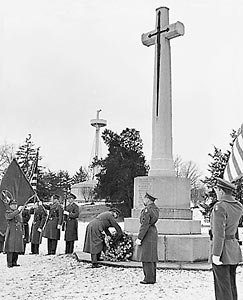 Photograph by Abbie Rowe
Photograph of Field Marshal Harold Alexander laying a wreath at a Canadian monument to World War I veterans in Arlington National Cemetery. (2/4/1947)
Photo courtesy of the National Archives, Harry S. Truman Library.
---
US Military Gallery Subject Gallery
Credits:
Romagne Cemetery, France photo by W. L. Mann (August 12, 1919), courtesy of the Library of Congress, Prints and Photographs Division, Panoramic photographs collection - Call Number LOT 6945, no. 6, Reproduction Number LC-USZ62-128427 DLC. The Library of Congress - http://www.loc.gov/
Canadian Monument to World War I veterans photo by Abbie Rowe (2/4/1947), courtesy of the National Archives, Harry S. Truman Library - Control Number NLT-AVC-PHT-73(2351).

Background pattern courtesy of ©