Story of a damaged Roman Cross
Shrine of the Most Blessed Sacrament,
Our Lady of the Angels Monastery,
Hanceville, Alabama.
Used by permission of ©2004 Shrine of the Most Blessed Sacrament.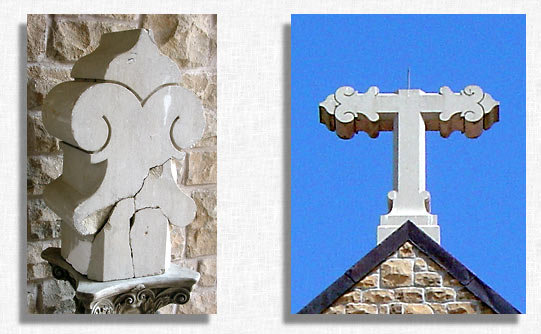 On the pinnacle of the Temple stands a Tau cross. Severe weather caused the breaking off of the top of the original Roman cross. After learning about the deep significance of the Tau cross, which is the form of the Greek letter "T", Mother Angelica saw this "accident" as a work of Divine Providence and decided not to repair the weather damage! The Tau Cross is the sign Our Lord had His angel mark upon the foreheads of the faithful people (Ezekiel 9:4). It is also the cross that Saint Francis preferred, using it as the signature for his writing. Finally, it is the symbol of spiritual renewal in the Church.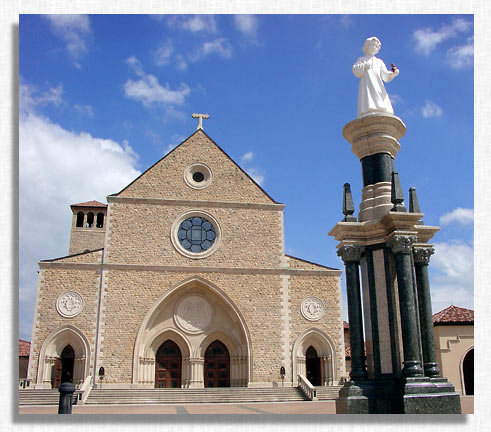 The Shrine of the Most Blessed Sacrament and the monument of the Divine Child Jesus.
---
Crucifixion Relief The Twelfth Station The Cross Subject Gallery Subject Gallery 2 Home
Credits:
Roman/Tau Cross and The Shrine of the Most Blessed Sacrament photographs by Eric Shindelbower; Copyright © Shrine of the Most Blessed Sacrament, Used by permission of Rev. Mr. Wm. Steltemeier, Chairman and Chief Executive Officer - Eternal Word Television Network - photos may not be reproduced without prior written permission of EWTN.

Tau Cross story courtesy of © Shrine of the Most Blessed Sacrament web site. Used by permission of Rev. Mr. Wm. Steltemeier, Chairman and CEO of EWTN; article may not be reproduced without prior written permission of EWTN.

Shrine of the Most Blessed Sacrament,
Our Lady of the Angels Monastery,
3224 County Road 548,
Hanceville, Alabama 35077.
http://www.olamshrine.com/

Background pattern courtesy of ©